James Eneojo Ocholi, senior advocate of Nigeria (SAN), minister of state for labour and productivity, alumnus of the University of Jos, one-time governorship candidate, father of two boys and three girls, lover of the music of Bob Marley and Don Moen.
The list goes on and on. Ocholi, who died in an accident on Sunday, was literally a man of many parts, one who made an impression on both his friends and foes, one who had lofty dreams for his home state, Kogi, one who always had a smile on his face no matter the weather.
In the tragic accident, near Rijana, along the Kaduna-Abuja road, he and his second son, Joshua, died instantly, while the wife, Blessing, slipped into coma and died later at the Doka hospital, Kaduna.
HE HAD A TOUGH, LOVING FATHER
Ocholi was born on November 26, 1960 in Idah, in today's Kogi state, to a father who hailed from Udanebiomi village in Ogbabede ward of Biraidu district, Dekina LGA. His mother was from Ikare village in Igalamela/Odolu LGA. He was the second child and the first boy in the family of four girls and two boys. His father, James Momoh Odoh, who was on the staff of the agriculture department of Igala Native Authority, was a devout Christian, an elder in the local church and a strict disciplinarian. Odoh also had a large heart: because of the early death of his parents and uncles, he took responsibility for the extended family. His house was always full of relatives.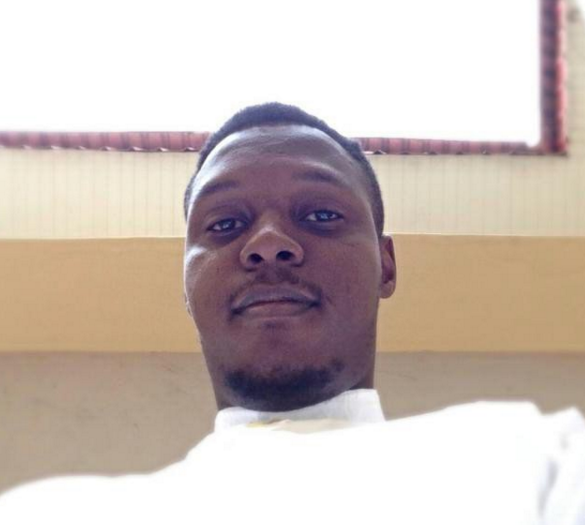 The deceased son who died with them today.
Ocholi attended the Qua Iboe Pre-Primary School in Idah between 1962-1965, Idah Qua Iboe Primary School between 1965-1967, and Anglican Primary School, Dekina, between 1967-1968. In 1973, he finished his primary education at the LGEA Primary School, Oguma. He then proceeded to Ochaja Secondary School, obtained his West African School Certificate in 1978, and taught as an auxiliary teacher at Dekina LGEA Primary School, Dekina.
He lost his father in 1978, but the setback notwithstanding, Ocholi attended the School of Basic Studies, Ugbokolo, from 1979 to 1982, where he obtained his A'Level certificate, before proceeding to the University of Jos — where was speaker of the students' parliament — to study law in 1982 on a scholarship from the Benue state government. He did his youth service in Calabar, Cross River state. In 1986, he obtained attended the Nigerian Law School and was called to the bar.
"After the death of my father (in 1978) and the breadwinner of our house, I became the head of the James Momoh Odoh's home. You can now imagine the hardship I passed through to raise my younger ones and further my education without my father," he said while announcing his 2011 governorship bid. He was earning N125 per month when he took on the responsibility, and this amounted to nothing because of the number of mouths to be fed, the mouths he inherited from his father. His siblings and his mother went through difficult times while he was in school, and his sister had to write him a letter in his final year, asking: "Brother, when will you finish University so we can eat meat?"
In 1988, he married Blessing Fatima, who was from Ejinya in Ankpa LGA. "In Blessing Fatima Ocholi I have seen the benefits of being married to a woman who loves God. She not only came into my life when I had nothing but all through by her prayers and steadfast support she became one of the pillars of my success as she partook in the challenges of my professional pursuit," he would say of his wife years later.
In an interview in November, Fatima from Ejinya, Okenyi District in Ankpa Local Government of Kogi state, said she had a pictorial imagination of the kind of marriage she wanted in what has turned to be a short life.
"I actually started planning my mar­riage ahead of time—I always knew what I wanted. I learnt a lot of things concerning marriage and I kept the record in my mind and decided I will emulate the values that are right. I had respect for mar­riage. I came to the conclusion that it's a good thing.
"The secret is that I had planned my marriage pictorially ahead. I under­stood the fact that in marriage two people come to live together from different backgrounds. I understood that, and made allowances for mis­takes and that was what guided me principally, every day I tailor my actions towards the best, to set my home in order", she said.
She met her husband while both of them were in school and such was the bond of love that James after graduating from law school, moved to Ankpa, his wife's town to practice.
Both had planned to get married after James completed his National Youth Service Programme and start a family right away. In moving to Ankpa, a provincial town, James was fulfilling a promise he made.
Though legal practice in Ankpa was not materially rewarding to James, his brilliance however shone beyond the small Igala town, up to Kaduna, where he met a senior Lagos lawyer, Kehinde Onafowokan, who invited him to Lagos to set up shop there.
James Ocholi did not just jump out of Ankpa. He said in an interview that he did so, with the prayeful backing of his wife.
"In Blessing Fatima Ocholi I have seen the benefits of being married to a woman who loves God. She not only came into my life when I had nothing but all through by her prayers and steadfast support she became one of the pillars of my success as she partook in the challenges of my professional pursuit", he said.
They were blessed with five children: Ojone Peace (daughter), Aaron Enojo jr (son, who died in the accident), Joshua Eb'ojo (son), Uyo Blessing Jr and Ele Excellent (daughters). His wife resigned her job as a registrar to set up an NGO to cater for IDPs, Ocholi told the senate during his ministerial screening in 2015.
He got introduced to the Full Gospel Businessmen's Fellowship International in 1988, and became the first president of the Ankpa chapter which would go on to give birth to over 35 chapters. He said the fellowship had a lot of impact in his personal and professional life and brought him in contact with men of high standing "who also love to serve God". CHRISTIAN EXPERIENCE Ocholi was in class two in the secondary school when he became a born-again Christian. "At an evening meeting at the school assembly hall, a Christian staff nurse from a neighbouring town was invited to speak to us," he said at a meeting of the Full Gospel Businessmen's Fellowship International. "For the first time I understood that being born into a Christian family did not make one automatically a Christian so I consciously made a decision to accept Jesus as my Lord and Saviour. I responded to the altar call and accepted Jesus.
"This singular experience marked the turning point in my life. I realised that being brilliant in school is not just enough to guarantee success in life."
HE LOST HIS FIRST 10 CASES
He started his law career in Ankpa, Kogi state, but briefs were not coming as he had hoped and prayed. And when they did come, he lost 10 cases in a row at the customary area and magistrate courts — a very devastating experience for a young lawyer.
Ocholi would later appeal to the high courts, and he began to record successes as most of the cases were upturned. Some of the judgments were reported extensively, giving him some fame in the legal circle and enhancing his reputation.
IN 2006 He was soon appearing in appeal courts and at the supreme court, and in 1998 he sought to relocate his practice from Ankpa to a major city. Same year, while handling a high-profile chieftaincy case at the court of appeal sitting in Kaduna, he met Kehinde Onafowokan, SAN, and his story took a new turn. Onafowokan told Ocholi he had the potential to become a SAN too.
He invited Ocholi to Lagos and gave him an office free of charge. That marked a new beginning for the young lawyer. Ocholi later moved his practice to Abuja. He applied for the rank of SAN in 2006. He was rejected but he did not give up. He applied again in 2007 and this time it was successful. POLITICAL QUESTS In 2011, he unsuccessfully ran for Kogi governorship on the platform of the Congress for Progressives Change (CPC), President Muhammadu Buhari's former party which is now part of the All Progressives Congress (APC). Ocholi was the national deputy legal adviser of the APC after the merger. He also contested for the APC ticket in 2015 but lost to Abubakar Audu, who later died during the election proper.
Buhari picked him as the ministerial nominee and gave him the junior minister of labour portfolio. Ocholi was one of the ministerial nominees acknowledged to have performed well at the senate screening. He took a bow (pictured) after his applauded outing, and now he has taken the final bow out of life.